Beautify Your Cycling Kit Storage With These Innovative Products…
I sure do love cycling. But damn the kit is awkward to store! Bikes are big, bulky, odd shaped objects that don't really fit neatly into any space. Helmets have no natural place in your home, and then there's shoes, gloves, all those jerseys, jackets, shorts and base layers, and don't get me started on bidons!
Luckily there are some really quite inspiring pieces of furniture out there to make your house look a little less like the aftermath of an Aldi jumble sale and more like a place you actually want to reside (oh and your family of course).
Tom Rowan's Cabinets, Tables & Mirror's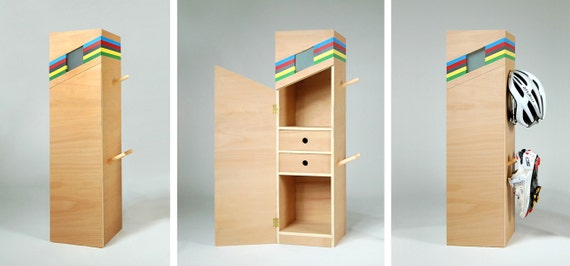 The first time I spoke with Tom he was halfway across Italy on a cycling trip. This guy lives and breathes cycling and just so happens to make beautiful quality furniture.
So he mashed the two passions together and has created a stunning set of cycling inspired tables, cabinets and mirrors. All made to order via his shop that you can order from.
Personally, I really love the Illuminated Pedestal & Cycling Cabinet. The clever storage unit with stylish, cycling inspired graphics would look really smart in any modern home or office. Chapeau Tom! You can visit his shop here…
VIEW THE RANGE >>
Bike Storage
Ideally, you have a huge shed which has Tardis like features that you can expand easily to cater for the N + 1 bikes formula that's written on your favourite t-shirt.
But you may not have a shed or garage. Perhaps the bike lives in your house, or perhaps you have an office where you need to park bikes regularly? I know I do. So here are a few snazzy bike storage options…
Clug Roadie Storage Mount
The Clugg Roadie Storage Mount is one of those wonderfully simple designs that makes you wonder how it wasn't in existence before. Perhaps it was but you've got to love the colours and aesthetics of this one.
Simply unfold the packaging of the Clug and follow the two drill hole markers. Make sure that you have the correct wall to drill into (Brick, Concrete and Drywall), insert the raw plugs into the holes and then fix the Clug to your wall. Once you have the plastic clip in place snap the gripper in to cover the screw heads, and you're ready to CLUG!
VIEW THE STAND >>
Saris The Hottie Freestanding Designer 2 Bike Stand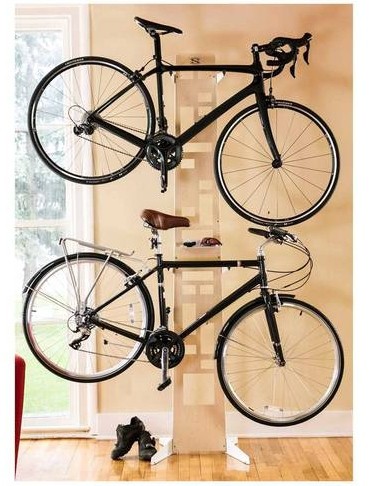 The Saris Hottie Freestanding 2 Bike Designer Stand is modern and aesthetically pleasing bike stand that is great for any garage, shed or hallway storage space. There is an accessories shelf which will also give you a space to empty your pockets or charge your phone while your bike waits for the next adventure. Keep all of your cycling accessories and your bikes on one neat stand that will fit in with any homes Feng shui.
I can't help but feel they were being mighty optimistic when they named this one but it is pretty smart looking and I have to say I do like the way it "stacks" bikes.
You can buy it (and read more about it) over on Evans Cycles here.
VIEW THE STAND >>