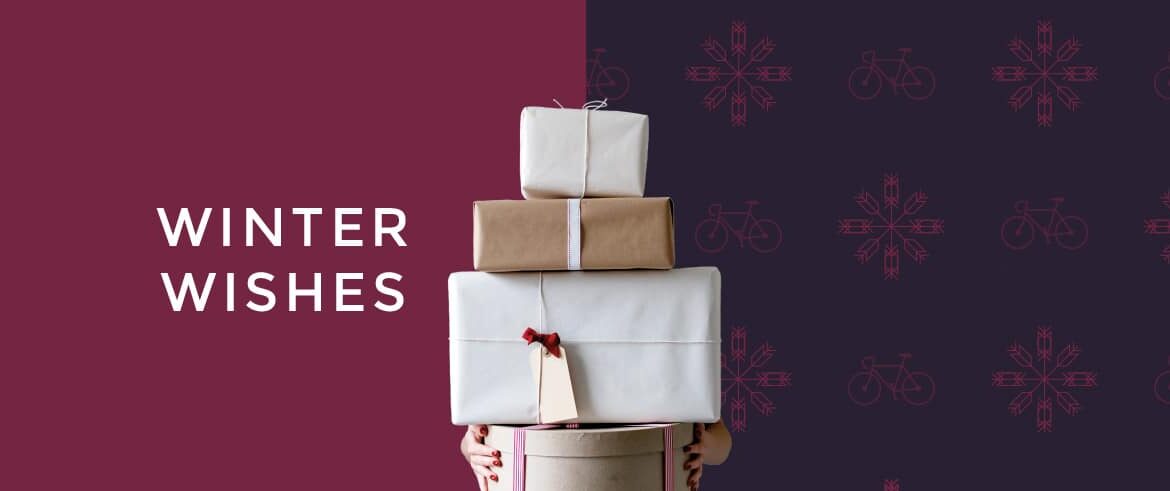 Winter Wishes | Cycling Gifts
Winter may not officially be here yet, but it sure does feel like it!  The recent chilly, windy, rainy weather has got us dreaming of something more cosy and watertight to wear, so we've picked some of our wardrobe and accessory favourites from across the web.
The Breeze Hooded Womens Top from Mountain Warehouse (£19.99) has got us feeling all warm and fuzzy inside.  We think it's perfect for biking and running, being both warm and breathable.  And that hole in the hood for your ponytail?  Genius!  It comes in navy or purple.
If you like to keep cosy right down to your ankles and beyond, then these Extra Long Leggings (£35.10) are ideal.  Created for activities like yoga, we think they'd work for casual cycling as well.  Layer them up for extra warmth and you're sorted.  Plus, these leggings are handmade and well…don't you just love a garment that isn't mass produced?
Eeek, we can't get over the cuteness of this Coral Jersey Dress Set (£17.50) by Maebelle & Bo.  And that bird and wheel print?  We just couldn't resist another design by the same shop; this adorable Newborn Gift Set (£24.00) features a blue and white tool print that we reckon new parents (and everyone else) will absolutely love.  Both products are handmade and designed in the UK, so it's a great excuse to buy British.
Leaders of GPS technology TomTom have a great range of watches that are good for all outdoor activities.  Water and scratch resistant, they are perfect for all weathers, but the addition of smart gloves are a must, as they use touch screen technology.  With various options and price points, you can find one to suit you.  We particularly liked the TomTom Spark GPS Multi-Sport Fitness Watch with Music and Heart Rate Monitor (£189.99).  It comes in black with a small strap, so is definitely very wearable, in line with other current smart watches.  For a slightly cheaper option, the TomTom Runner 2 GPS Watch with Heart Rate Monitor (£134.99) also sports a small strap, but comes in a nice Wintery colour combo of white, blue and grey.
For your hardcore cyclists, Stolen Goat offer great Winter gear.  These two products from their new range are tried and tested and are amongst other top of the range brands when it comes to quality and design.  You can find the Stolen Goat Climb & Conquer Winter Cycling Jacket (£129.00) and the Stolen Goat Orkaan Race Tech Winter Bib Tights (£112.00) on their website or on cycle retailer Wiggle.
Sometimes there are those brands that you know just work.  SealSkinz has to be one of those – their socks are incredible for keeping feet dry, whether it's in your walking boot or in a cycling shoe.  The SealSkinz Waterproof Cycling Cap (from £12.03) certainly looks the part and has smashing reviews to boot.  For cyclists, the SealSkinz Hydrostop Mid Weight Mid Length Sock (from £28.34) from their AW 2015 collection is a must-have and can be used when out walking too – we love a multi-purpose product.
For other gift ideas from Cycling Souvenirs, why not browse our ever popular Home & Kitchen range?