Customise a Little Cyclist | Valentine's Gift
Ever wondered exactly what you can customise on a Little Cyclist?  Well, pretty much everything.  From the hair down to the tiny socks and shoes, you can specify colours, patterns, numbers and letters.   Perhaps you have a friend with a beloved hand built bike and fancy cycling kit – replicate that as a Little Cyclist and you're surely onto a winner.
We reckon that with St Valentine's Day coming up soon, a personalised cyclist model would be the ultimate romantic gesture.  If you are looking for something that little bit different and like to stay away from the typical chocolates and flowers, then this is it.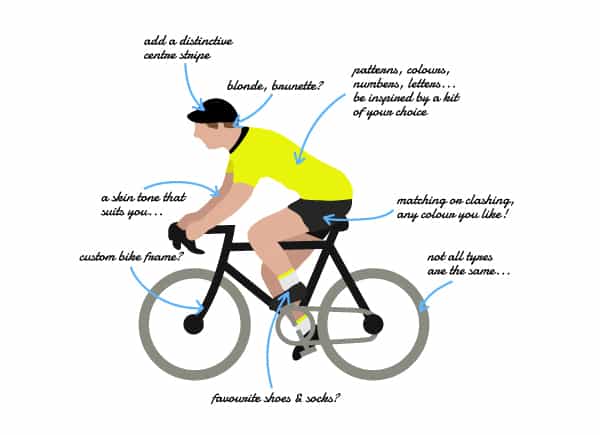 Orders for custom Little Cyclists are fulfilled by our artists at the end of every week, to be dispatched to you on the following week, so make sure you get planning!  If you are unsure about your requirements then please do email hello@cyclingsouvenirs.com for help and advice.  We accept photo attachments too, so if you have seen a kit you like, snap it and fire it over.
(Please be aware that we are unable to paint on beards or long hair, much as we'd like to.  Intricate details like patterns, letters and numbers are limited due to the small size of the model, so get in touch to see what we can do for you.)
To get started, simply go to the Little Cyclist page and select "Personalised" from the dropdown – you can then check out as usual.  To add details about your order, either add notes to the comment box whilst purchasing, or send us an email later with image attachment.
Happy shopping!