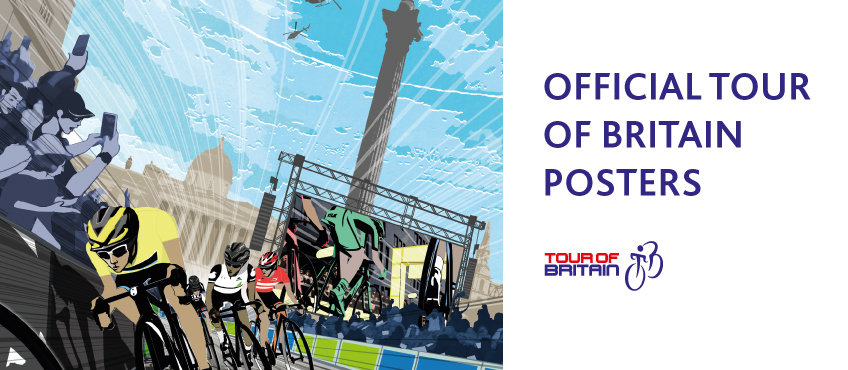 We are pleased to present our latest collaboration – 8 unique A2 art prints from Tour of Britain.
With a matter of weeks to go until the Tour of Britain departs from George Square in the City centre of Glasgow, Tour of Britain organisers are celebrating a fantastic summer of cycling with the official artwork of the 2016 edition of the race.
Renowned cycling artist Will Barras is back with another set of eight spectacular images which reflect the beautiful and varied terrain of the 2016 route all from the perspective of 'inside the peloton'. Each of the images is inspired by one of the stages, from the spectacular Welsh mountains to the riders whizzing around London's Trafalgar Square via a summit finish in Devon and a circuit race in Bristol.
The Stages
Stage 1 : Sunday 4th September : Glasgow to Castle Douglas
Stage 2 : Monday 5th September : Carlisle to Kendal
Stage 3 : Tuesday 6th September : Congleton to Tatton Park, Knutsford
Stage 4 : Wednesday 7th September : Denbigh to Builth Wells
Stage 5 : Thursday 8th September : Aberdare to Bath
Stage 6 : Friday 9th September : Sidmouth to Haytor
Stage 7 : Saturday 10th September : The Bristol Individual Time Trial and Circuit Race
Stage 8 : Sunday 11th September : The London Stage
About the artist
Will Barras is an artist, illustrator and animation director living and working in London. He grew up in Birmingham and moved to Bristol to study graphic design. Will became one of a new crop of young artists working within Bristol's world renowned street art scene.
This led to Will appearing in 'Scrawl' the book, and becoming a founding member of the Scrawl collective. 'Scrawl' originally published in 1999 was a seminal book documenting a new movement in street art, graphics and illustration. He was chosen as one of the original artists for the collective, noted for his representations of fluid movement, unique narrative driven composition and line work.
Printed on Hahnemulhe Photorag 308gsm paper, each design is high quality and is supplied rolled and unframed.  Why not add a bold piece of art to your home?
View the full range